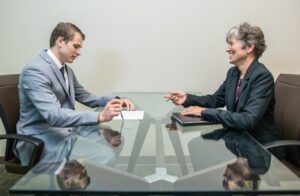 So—assuming your organization has gone remote—how do you onboard at a distance in the middle of a pandemic? If you're among the lucky few organizations that are still bringing in new people, read on for some tips on how to tweak your standard onboarding process to adapt it for these times.
Before the start date: Anticipate and resolve obstacles
Give yourself ample time to figure out IT and HR issues.
Don't make assumptions about your new staff member's ability to work remotely. Some roles that require direct client contact (e.g., providing meals to low-income people) just cannot be done over the phone or the internet. But assuming your new hire's job (at least part of it) can be done remotely, you'll need to prepare to make it happen.
First, call your IT or admin staff to see how you can get your new hire the technology they need. Then, set up a meeting for the three of you (IT person, new hire, and you) to explain your organization's remote work situation and assess the new hire's tech set-up. Use this time to find out things like whether they can use a personal device for work until they get a work laptop, or whether they have reliable internet and a workspace.
Similar to technology requirements, see if there are any paperwork requirements (like completing W9 or benefits enrollment forms) that cannot be e-signed. If yes, make sure the paperwork gets to your new hire in a timely fashion. Sweat these seemingly "small things" because they can make a huge difference in your new hire's ability to access healthcare or get paid on time.
Adjust their job description, if needed.
Consider how much their role has changed since you made the job offer. Did you hire a canvasser, and now your canvassers are phone bankers? If the change in job responsibilities is significant, create a new "temporary responsibilities description." Provide as much information as you have. Tailor this onboarding process to the new role (even if it's temporary). You'll have to do a second round when they start doing the work they were hired for. Make sure to communicate to the new staff member the current context and need for flexibility as well as the longer-term vision for the role.
Once the new hire starts: "Out of sight, but top of mind"
Help the new hire settle into the organization and build relationships.
Have a virtual welcome celebration. Onboarding is as much about making a new hire feel comfortable in their new environment as it is about teaching them the nuances of the role they were hired for. Throw them a welcome party via videoconference.
Send them swag. Personalize the welcome. Send flowers from their local florist, some company swag you may have in your closet, or cupcakes from a nearby bakery that'll deliver.
Help them build their network. Connect them to their colleagues by doing personal email introductions or setting up one-on-ones. You can also assign a buddy to check in weekly with your new hire. Since they can't benefit from the organic network-building that happens in shared physical spaces, anything you do to help them make connections will make a difference.
Set up the Manager-Staff relationship.
Communicating schedules and availability. While this is an important part of any onboarding, it is essential now. One or both of you may need to keep odd or irregular hours, so figure out what works best for scheduling and communication. Similarly, share any organizational calendar norms. For example, some staff may be taking time off during "regular business hours" for childcare, and may not be available.
Adjust the cadence and format of your check-ins and onboarding sessions. Your typical hour-long check-ins with direct reports might need to be more like two 30-minute check-ins per week. Your standard onboarding process might have included multi-hour long sessions, but that might not translate well to videoconference, so you'll need to bite-size them and offer plenty of breaks.
Don't forget to check in on their situation. A new hire will be reluctant to tell you about their constraints or take advantage of any flexibility the organization offers at this early stage. Make it easier for them by checking in on their context and making sure they're aware of the available options.
Set the new hire up for success.
Set out 30-day goals. Craft goals based on how the new staff member can best contribute to the organization right now. Demonstrate how the goals connect to the organization's priorities and mission, and also how they tie back to the skills that are essential for the new hire's eventual role.
Don't skimp on feedback. Set up a regular cadence for giving praise and developmental feedback from the get-go. Model the qualities you want to see and make feedback a regular part of your check-ins.
Have the new hire 'self-drive' parts of the onboarding. You can lighten the load for yourself (especially with senior hires) by letting them own parts of their onboarding process. Some self-drive ideas include:

Reviewing your mission and vision documents
Perusing your website and recent external-facing communications
Shadowing meetings and calls
Participating in debriefs or brainstorming sessions
Ask your new hire to keep a running list of questions or ideas that come up as they're doing these activities and discuss them during your check-ins.
This article was originally posted in Management Center.