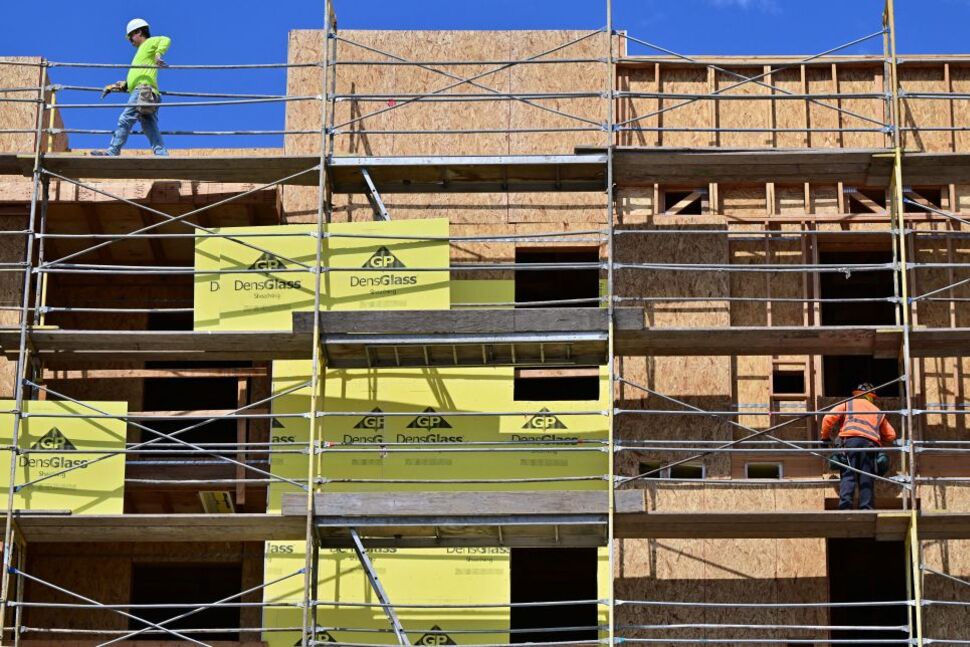 Construction workers walk on scaffolding around a new block of apartments, Aug.16, 2022, in Los Angeles.(FREDERIC J. BROWN/AFP/Getty Images)
The increase comes as builders report being more optimistic about the market.
Builders showed renewed optimism in February, pulling more permits and beginning construction on more housing units, the Census Bureau and the Department of Housing and Urban Development said on Thursday.
The number of permits rose 13.8% to an annual rate of 1.5 million, while January's number was revised slightly upward. Building starts increased 9.8% to an annualized 1.45 million from the prior month's revised rate of 1.32 million.
The level of activity remains about 18% below a year ago, however. A lot of the gains came in multi-family construction. Increases were strongest in the South and West.
"The uptick in new starts this month reflects rebounding homebuyer demand and improved builder confidence," said Lisa Sturtevant, chief economist for Bright MLS. "However, recent troubles in the banking industry could quash the momentum that has been building up in the new housing sector."
Builder confidence rose in March by two points, according to the National Association of Home Builders/Wells Fargo Housing Market Index released Wednesday. It was the third straight monthly increase in builder sentiment.
"Even as builders continue to deal with stubbornly high construction costs and material supply chain disruptions, they continue to report strong pent-up demand as buyers are waiting for interest rates to drop and turning more to the new home market due to a shortage of existing inventory," said NAHB Chairman Alicia Huey, a custom home builder and developer from Birmingham, Alabama. "But given recent instability concerns in the banking system and volatility in interest rates, builders are highly uncertain about the near- and medium-term outlook."
The monthly survey found that builders were relying on incentives to sell homes, with 31% reporting they had lowered prices in March, the same as in February but lower than was reported late last year.
"Conditions are still considered "poor" overall, but the improvement signals that builders are feeling cautiously optimistic," Odeta Kushi, deputy chief economist at title insurer First American, said ahead of the construction data's release.
"One of the drivers behind higher builder sentiment is the lack of existing-home inventory available for sale," Kushi added. "The shortage of existing home inventory means more and more buyers could turn to the new home market. And while three months of higher home builder sentiment may indicate a turning point for single-family homebuilding, builders continue to face headwinds in the form of higher construction costs and an affordability-constrained housing market."
Kelly Mangold of RCLCO Real Estate Consulting, said that, "On a positive note, the number of existing homes on the market has reached record low levels which is giving new homes less competition – and they are often one of the only options for motivated buyers."
"We are currently in a period of economic uncertainty, and it is possible that we could see improvements as the year progresses, or that starts could experience a continued decline if we enter a true recession," she said.
https://www.usnews.com/news/economy/articles/2023-03-16/new-construction-surges-in-february